NEWEST VEST DESIGN TWEAKS: This newest run has some upgrades that I hope you like. It mostly applies to the HD ORANGE S-XL and a few more in S and 3XL in the both design versions. The pocket lids and closures are now more squared off with a longer strip of Velcro so no need for elastic. The new Velcro configuration is to help keep your pockets closed when they are full of tools! This run of vests are a bit lighter too, 500 v 600D material on the HD PC15X and 150 v 300 on the SVX summer version. We moved a grommet/eyelet down on the lower pocket to keep the flagging roll in and also deleted one of the upper inside pockets. Though all the metal rivets are gone we're still using the Power Stitched bartack stitches for stability. Bigger pads on most of the shoulders and neck, an easy looped strap to hang your vest and a second row of stitches to cinch up the radio straps. We are always trying new designs to improve the safety and utility of the Party Chief vests. Changes are not taken lightly at Safety Apparel. The team redesigns and rebuilds prototypes to spec, and then field tests them before any production. -TEAM SAFETY APPAREL
SAFETY APPAREL
We're reinventing Safety Apparel with the highest quality materials and most functional and versatile vests the safety industry has ever seen.
Safety Apparel offers ANSI/CSA compliant, high visibility survey and construction vests and reflective traffic control gloves, hats, stickers and patches.
We can also provide you with company logos and other designs on vests, shirts, jackets, etc. With many applied options including, but not limited to, silkscreen, sublimation, patches, embroidery and heat transferred images, we can provide your company with the clothing and art you need to look sharp and professional!
Send us an email with your needs and we will do our best to get you headed in the right direction. info@safetyapparel.us
PASSION
Born from the lack of quality and functional gear in the safety industry, and frustrated to find no other options, we set our passion on building our own high quality safety vests from the best materials and craftsmanship. With 20 years in the surveying industry, we've seen it all; used it, broke it, fixed it and modified it. What you see here at Safety Apparel is the passion and sweat of years of field testing to produce what we think is the very best safety vest on the market. We call it THE Party Chief!
ANSI/CSA COMPLIANT
THE Party Chief vest is an ANSI 107/CSA Z96 compliant Class 2 safety vest. Some models in Yellow offer a Class 3 design with the ability to zip in arm sleeves for compatibility. No other vest on the market offers the versatility of THE Party Chief!
FEATURES
We've gone full circle to give you the most pockets, grommets, storage, hangers, and venting to make this vest perform to the demanding expectations of the surveying and construction industry. Besides surveyors, we find that hunters, police officers, foreman, and all types of industry professionals are coming to us. They are demanding the best gear that is also ANSI/CSA compliant. THE Party Chief vest tells people you're serious about your job.
MEET THE PARTY CHIEF
NEWEST VEST DESIGNS ARE OUT NOW!

Neon binding with silver 3M Scotchlite relflective striping, large YKK Vislon front zipper closures with easy grip ergo handles, YKK coil zippers with easy grip ergo handles for back underlying trough pocket, deeper and wider front pockets, tighter straps, heavier stitching, lighter weight materials, and both inside trough pockets built tall for iPad or similar tablets.
FEATURES
All of our design components have been packed into this short video which features our original flagship Safety Orange vest with 3M yellow PVC striping and snap front closures. NEWEST DESIGNS HAVE SILVER STRIPING AND OTHER UPGRADES.
A CLOSER LOOK
ANSI/CSA CLASS 2
In true vest form the Party Chief vest is a CLASS 2, which can be seen up to a quarter mile at night from headlights. Some models in Yellow are Class 3 with detachable zip-off sleeves for Class 2/3 compatibility.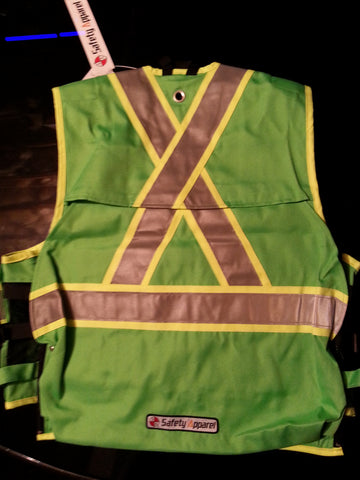 FULL BACK
The Party Chief vests come in two designs, the heavy duty PC15X and the summer SVX. Both design are available in 3 colors and sizes S-3XL. Our reflective stripes run a continuous 360° for maximum visibility. Only the Party Chief vest designs seamlessly combine Safety, Function and Comfort.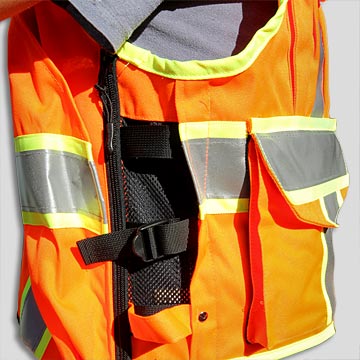 BREATHABLE MESH OPENINGS
Both sides have breathable side mesh and a back shoulder overlapping vent to keep you cooler in the warmer months. The shoulder vent also allows you to cut a custom D-ring harness hole through the mesh for a better fit. SOME DESIGN ASPECTS HAVE BEEN ADDED OR DELETED.
DESIGNED FOR EASY ACCESS
The front is cut shorter to easily access pant pockets, tool belts, and it doesn't bunch up in your face when in and out of your vehicle or desk. It is designed extra long in the back which creates a large bottom trough pocket and deters rain from your back pants pockets.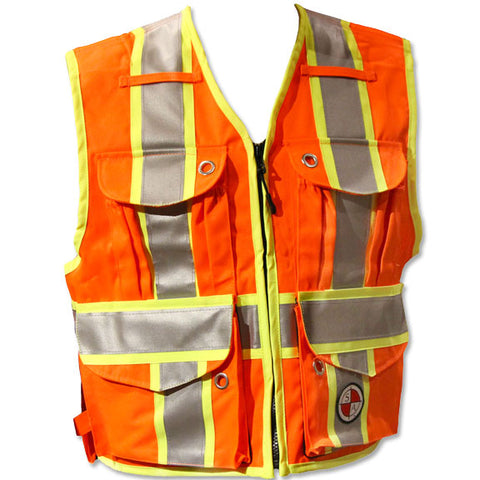 MIRRORED POCKET DESIGN
THE Party Chief has pockets galore, both inside and out. They provide maximum strength and durability for all your utility pockets needs. There are also grommets, trough pockets, covered pen holders, radio clips, hammer hangers, and knuckle side fleece-lined hand pockets for the cold days. Inside book pockets carry your i-Pad/Notebook devices safely.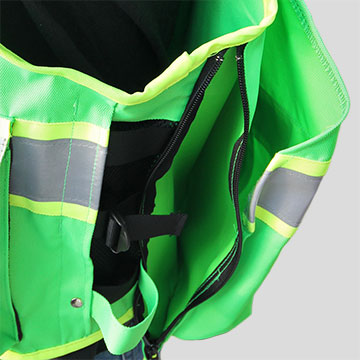 LARGE BACK POCKETS
THE PC15X heavy duty Party Chief has a giant open wrap-a-round back trough pocket and underlying water resistant zipper trough pocket. With rip deterring power stitched bar tacks to take the weight. It will hold everything from plans and spray paint cans to hammers and lunch.
SHOULDER PADS
Tapered shoulder pads prevent tool bag straps from slipping off your shoulders and provides cushion for carrying heavy equipment all day. Made with Cordura 150/500 for water resistance and maximum durability, THE Party Chief is made to last.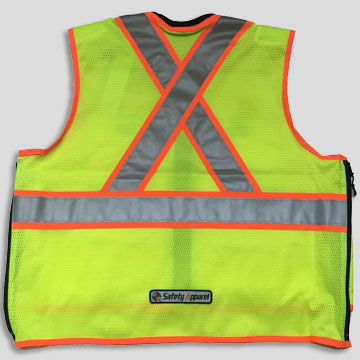 CSA Z-96 and ANSI 107 COMPLIANT
We also offer our vests with a reflective "X" BACK striping design, making them CSA Z-96/ANSI 107 compliant for use in Canada and the US.  Workers are required to have a certified Class 2 vest on or around roads and on all job sites.  You need THE Party Chief vest to stay ahead of all the safety standards today.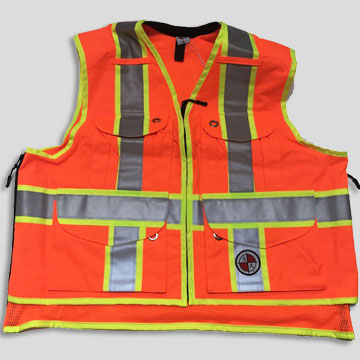 SUMMER WEIGHT DESIGN
Safety Apparel's SVX Summer Vest is the best of what THE Party Chief has to offer, but in a lighter duty design.  It includes a lighter 150 D material, a mesh back and padded collar. The mesh back still incorporates the wrap-around zipper trough pocket for lunch, plans, ipads, tablets, etc.
Testimonials
Your vest meets the safety requirements, holds all required equipment VERY comfortably and provides balance to the vest while it's being worn and used... 
It's the very best vest I have ever owned.

R. Gartner /Chief and Fire Fighter
I purchased some summer vest designs from Safety Apparel and my crews love them.  I even wear one myself, here in southern GA, where it is very hot most of the year.

Jeff F. /RLS, GA
This vest [THE Party Chief vest] is not only comfortable but it's also highly functional with multiple pockets. Thank you sir, for your efforts to help our survey community stay safe and effective.

Amanda C. /IMAN AR